Looking after your Volunteers
Ensure your volunteers have a good experience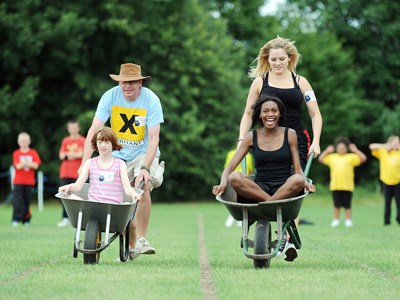 Some of your volunteers may be required to work for a full day, or for a significant amount of time. You must take into consideration refreshments for all of the volunteers. This could be a hot drink on arrival and then a packed lunch or snack (if budget allows) should their allocated role require them to work throughout the afternoon. Contact local suppliers to see if you can obtain free packed lunches for volunteers.
Schedule breaks for your volunteers, particularly if their task is active. Ensure you have enough volunteers who are able to cover certain roles when others are taking a lunch break.
Recognition
Recognition is extremely important and all volunteers should be thanked for their efforts on the day, along with a follow up email/letter if possible. Your communication with your volunteers post-event is just as important as pre-event, as you may need their assistance for future Community Games events; you will then have the opportunity to build up a contact base of volunteers within your local community.
After a hard day's work, your volunteers will be tired and may not wish to stay on after the event. If you can, have some sort of party/de-brief at a date after the event as a formal thank you. Providing them with some pictures of the day as a memento of their experience would probably be much appreciated.