Emergency Planning
It is always good practice to have plans in place should unforeseen circumstances or events affect your event. An emergency plan is critical fo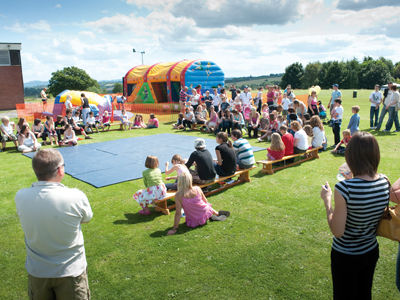 r the following reasons:
Highlighting the most likely scenarios
Laying out a communication plan
Highlighting an evacuation point
Highlighting medical facilities and location
Detailing locations of nearby hospitals
It would be worthwhile seeking advice from the emergency services to help you develop an emergency plan. The local police, ambulance and fire service are good places to start, however you may also want to talk to a first aid provider.
You should try to include as many emergency scenarios as possible in your plan – though only those that realistically may occur at your Community Games. These could be:
Cancellation due to bad weather
Medical emergencies
Lost/found children
Lost/found property
Unexpected crowd movements in a certain area of the event
Stolen equipment
Listed below are some key things to consider for emergency scenarios:
Cancellation due to bad weather

Bad weather should include heavy rain, snow, hail and high winds. Check the weather forecast in the days leading up to the event, especially if you are holding your Community Games outdoors. It is unlikely you will be able to make a final decision until the morning of the event, but the safety of participants, spectators and volunteers should always come first in the occurrence of bad or dangerous weather.
Medical emergencies
If witnessed or informed of an incident ensure that volunteers know who to report it to. The volunteer should remain with the injured person until medical assistance arrives. If the person is transferred to hospital ensure that, if possible, relatives are informed straight away. Keep a record of the incident
Lost children
It is important to note that at events such as this any lost children reported are usually found again within 15 minutes.
Ensure that full and comprehensive details are recorded of the child, including a complete description (hair colour, clothing etc)
Ensure that volunteers act in a calm manner and ask questions such as where was the last place they were seen and if they had contacted home to see if the child had returned.
If you are using two-way radios it would be good to communicate the description to all radio users so that can scan their areas – but don't mention the child's name
Utilise PA systems if available to send out messages – but don't mention the child's name
As a guide if the child remains lost for more than 60 minutes, then the police should be notified
Found children
Volunteers or members of the public may come across children who have been separated from their parents or responsible adult. Again, it is highly likely that they will be reunited again soon, especially if your Community Games site is not particularly big.
Inform volunteers that it would be best not to be alone with a child – where possible two volunteers should wait with them
Try to establish the name, age and where they last saw their parents, and if they know their telephone number
The volunteer should inform the event manager or person responsible for lost children
Ensure any information points and supervisors are informed
Coordinate announcements if possible through PA points and stage if necessary
Refrain from mentioning the child's name over any public announcements
Unexpected crowd movements
This is fairly unlikely at your Community Games due to the fact that the actual attendance probably won't be in the thousands. However, there are some common sense things to do:
Volunteers should be alert for warning signals within the crowd at key areas and entry/exit points
Use PA systems to communicate messages to members of public if necessary
Risk assessments
A risk assessment is a document which allows you to determine the likelihood of certain events occurring. All elements of an event require a risk assessment, highlighting the risks associated with an event and the necessary control measures put in place to eliminate or reduce the risk of injury to everyone involved.
Without experience, compiling an event risk assessment can seem intimidating. However, guidance and advice is available from the Health & Safety Executive at www.hse.gov.uk.
If hiring in equipment (marquees etc), the suppliers are responsible for compiling their own risk assessments and accompanying method statement - a document describing in detail the step by step installation and operation process including any supporting documentation, for example:
Maintenance certificates
Electrical testing certificates
Staff training certificates